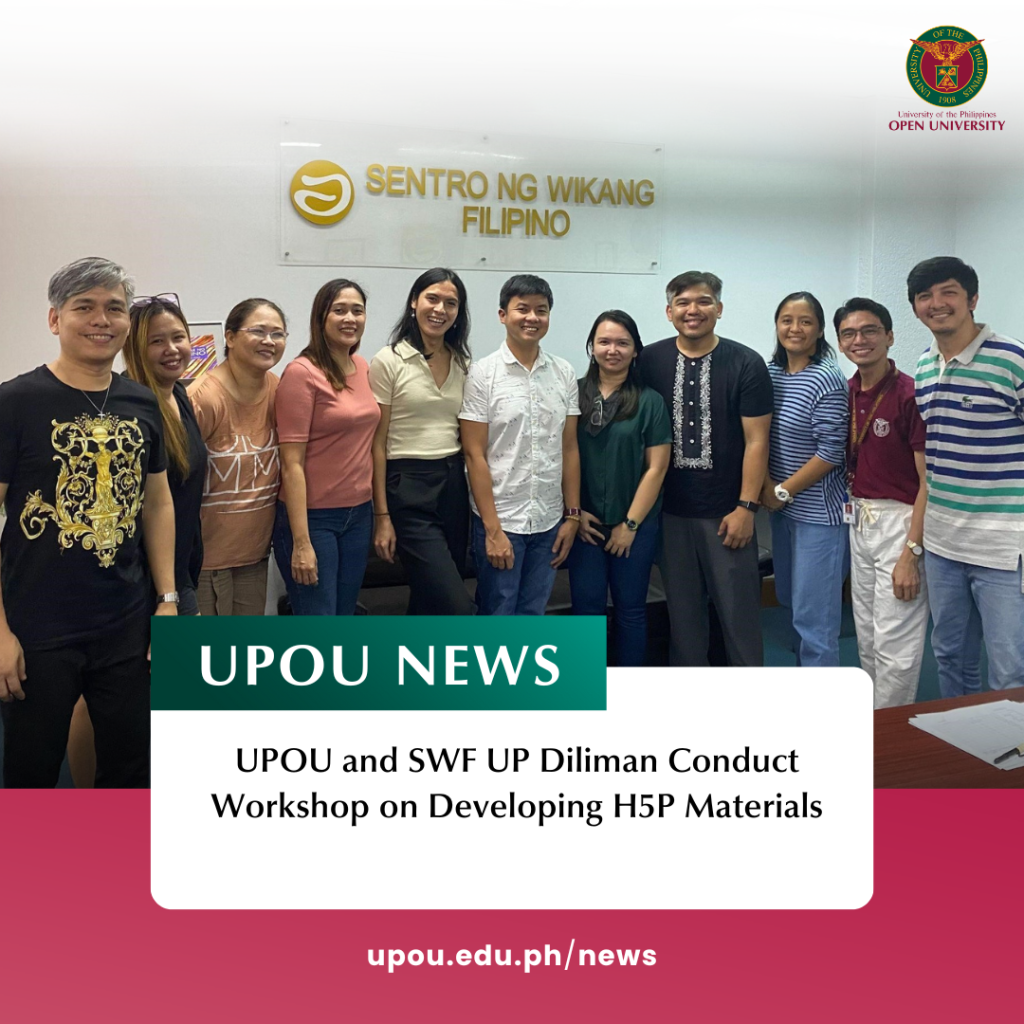 University of the Philippines Open University (UPOU) and the Sentro ng Wikang Filipino – UP Diliman (SWF-UPD) recently held a workshop entitled, "Workshop sa Paggawa ng Interactive Book gamit ang H5P", at the Sentro ng Wikang Filipino (SWF) Office in UP Diliman on 13 July 2023. The event took place at the prestigious University of the Philippines Institute of Small-Scale Industries, setting the stage for a fruitful exchange of knowledge and ideas.
The workshop served as a continuation of the Course Development Workshop sessions initiated on the 20th and 21st of June, 2023. The sessions were dedicated to advancing the eTULAY-FILIPINO project, a joint endeavor undertaken by UPOU and SWF-UPD. The workshop was facilitated by Dr. Roberto B. Figueroa, Jr. and Assistant Professor Ana Katrina T. Marcial. Dr. Figueroa, who is a member of the Faculty of Information and Communication Studies (FICS) also represented the Immersive Open Pedagogies (IOP) Program as its director and the Center for Open and Digital Teaching and Learning (CODTL) as one of its deputy directors. Assistant Professor Marcial represented the Faculty of Education (FED) as the chair of the Graduate Certificate and Master of Distance Education.
This activity boasted an esteemed group of participants who brought their expertise and passion to the table. The participants of the workshop, led by the Director of SWF, Dr. Jayson Petras were his energetic staff, namely, Katherine T. Jayme, Gemma C. Dalmacion, Elfrey Vera Cruz-Paterno, Larry B. Sabangan, Nalla E. Avena, Odilon B. Badong, Jr., Khimwel A. Santos, and Lorna C. Balingit.
The collaborative effort is a testament to their commitment to fostering educational excellence and language preservation. By providing a platform for diverse individuals to come together, share insights, and develop courses, they aim to promote effective learning methodologies and reinforce the significance of the Filipino language. They also continued the development of learning materials for the Hasaan 2: Wika 1 Project, which is hoped to benefit Wika 1 faculty members from various UP CUs this year.
The workshop's success can be attributed to the dedication and contributions of all participants, who actively engaged in meaningful discussions and practical activities. Through their collective efforts, they have laid a solid foundation for the future of the eTULAY-FILIPINO project and its potential to revolutionize online education.
As the University of the Philippines – Open University and the Sentro ng Wikang Filipino – UP Diliman continue to spearhead initiatives that empower learners and uphold the rich cultural heritage of the Filipino language, their partnership remains a beacon of progress and innovation in the academic realm. With events like this workshop, they set a remarkable precedent for collaborative endeavors that transcend boundaries and pave the way for a brighter educational landscape.
---
Written by Hannah Gabriella Macaldo
Edited by Dr. Roberto B. Figueroa, Jr.