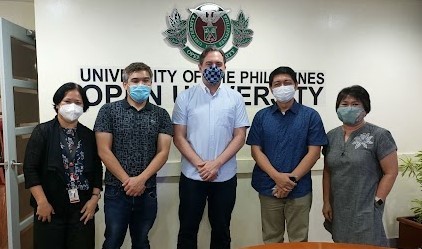 The University of the Philippines Open University (UPOU) welcomes Prof. Eric Hawkinson as a visiting professor under the Faculty of Information and Communication Studies (FICS). Prof. Hawkinson currently teaches Learning and Design Technology at Kyoto University of Foreign Studies. He is also a learning futurist who explores and designs technologies for the future of teaching and learning. His projects included augmented tourism rallies, augmented reality (AR) community art exhibitions, mixed reality escape rooms, and other experiments in immersive technology.
On 01 September 2022, Prof. Hawkinson conducted a hands-on workshop with the team of Dr. Roberto B. Figueroa, Jr. about "Developing Immersive Learning Programs for Higher Education." This half-day workshop aims to give its audience a working framework for integrating emerging immersive technologies like AR and virtual reality (VR) into educational programs, new learning labs, study abroad programs, and research initiatives.
During his visit, Prof. Hawkinson made a courtesy call to Dr. Primo G. Garcia, Vice Chancellor for Academic Affairs. Also present during the meeting were Dr. Ricardo T. Bagarinao, Dean of the UPOU Faculty of Education (FEd), Dr. Myra Almodiel, Director of Office of Public Affairs (OPA), Dr. Roberto Figueroa, Jr., Program Development Associate for the Center for Immersive Open Pedagogies (CIOP), and Ms. Luisa Gelisan, Director of Multimedia Center.
Prof. Hawkinson also visited the proposed spaces for the CIOP and the Immersive Learning Laboratory (ILL) along with Dr. Diego Maranan, Dean of the Faculty of Information and Communcation Studies (FICS), Dr. Figueroa, and Director Gelisan.
As a consultant of Kyoto for tourism education who successfully developed immersive tourism programs, the university can also tap Prof. Hawkinson to promote these sites to the world using immersive technology. In one of UPOU's Edu-Hack podcast episodes, he also explained the potential of ARVR technology to be an "empathy machine" by simulating the experience of being in another environment or reality.
The Visiting Professor Program is one of UPOU's initiatives to increase the number of Doctor of Philosophy (PhD) and Master of Science (MS) mentors in the degree programs and enhance the collaboration and creative work of its faculty and students.
---
Written by Jessa Mae Feria
Edited by Myra C. Almodiel and Anna Cañas-Llamas
Photo from Christian Guevarra and Roberto B. Figueroa, Jr.