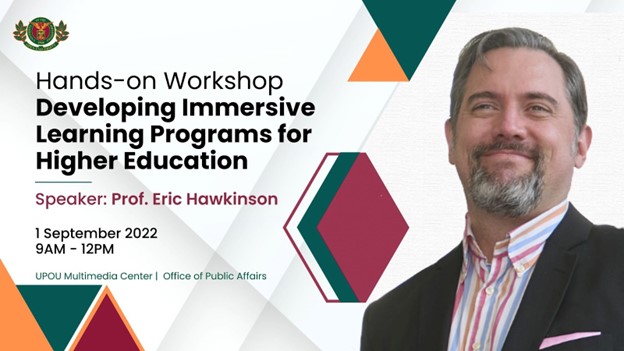 The University of the Philippines Open University (UPOU) conducted the Hands-on Workshop on Developing Immersive Learning Programs for Higher Education on 01 September 2022. The resource speaker of the activity is Professor Eric Hawkinson, a visiting professor under the Faculty of Information and Communication Studies (FICS) and also a faculty of Kyoto University of Foreign Studies who specializes in teaching Learning Design and Technology.
Professor Hawkinson defined immersive technology as a category of technology referring to augmented reality, virtual reality, mixed reality, extended reality, diminished reality, and the metaverse. He further shared that we are slowly transitioning from the print era to the mobile generation of teaching. Educators would be thinking of new ways to imbibe learning through the latest technologies coming in. He also said that virtual augmented reality acts as a bridge between people and how we acquire and perceive digital content. All the emerging technologies like artificial intelligence (AI), three-dimensional (3D) printing, edge computing, cloud computing, Internet of Things (IoT), and augmented and virtual reality are beneficial in the interaction between educators and students.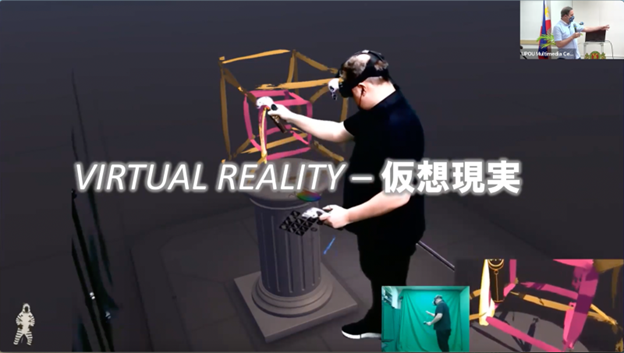 Later on, Professor Hawkinson also introduced the computer vision algorithm which recognizes a set of cards and adds digital content on top of them, helping the user get more information about the said card. He also shared some samples of content produced by his students shown through the foregoing technologies, implying the effectiveness of immersive learning as a teaching tool.
To fully visualize the relevance of immersive learning, the participants of the workshop were able to see different forms of augmented reality such as virtual tours, data embedded on cards through computer vision algorithms, and augmented reality rallies. participants were also able to clarify their questions on localizing the use of immersive learning with their specific learner demographic such as public servants and working students.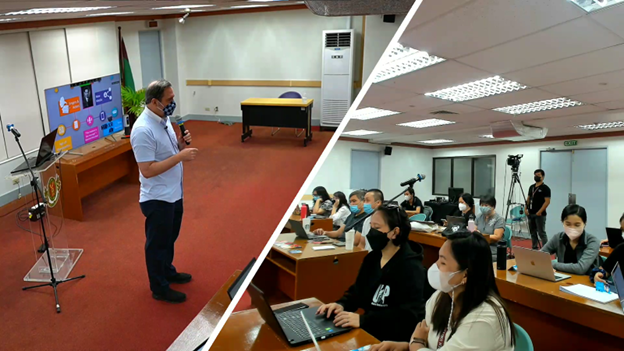 A total of 33 faculty and staff from the Office of the Public Affairs (OPA), Multimedia Center (MC), FICS, Faculty of Management and Development Studies (FMDS), and Faculty of Education (FEd) participates in the hybrid workshop.
Through this workshop, UPOU shall gear towards the future of its students equipped with the proper knowledge and equipment on immersive learning to effectively convey higher learning. This workshop was organized by Dr. Roberto Figueroa, the Program Development Associate for the Center for Immersive Open Pedagogies (CIOP) Program, who served as moderator, in partnership with the Office of the Public Affairs (OPA) and the Multimedia Center (MC).
---
Written by Nikhaela Valenciano
Edited by Myra C. Almodiel and Anna Cañas-Llamas
Photos from Prof. Eric Hawkinson