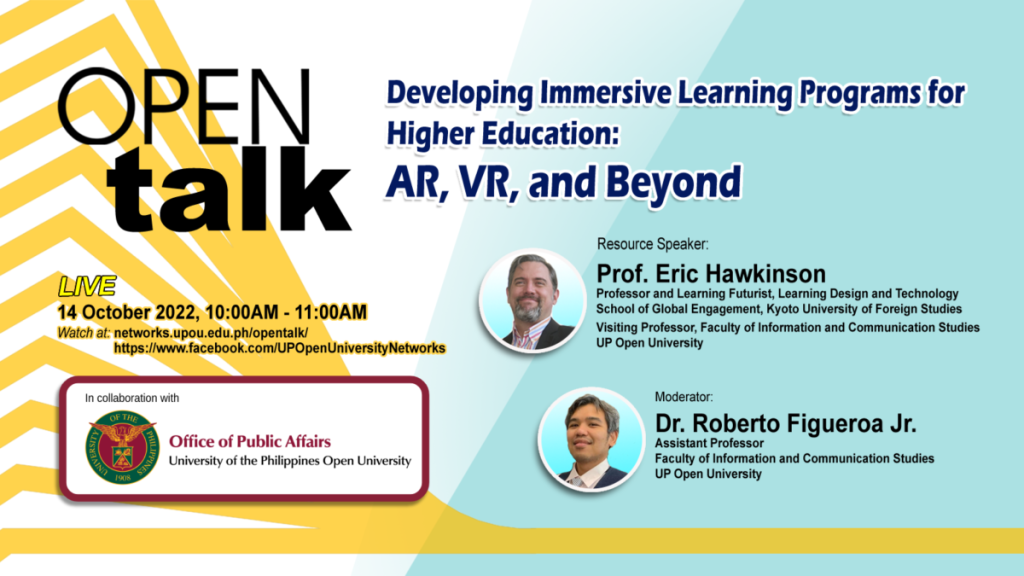 The University of the Philippines Open University's (UPOU) OpenTalk 27 featured a discussion on Developing Immersive Learning Programs for Higher Education through Augmented Reality (AR), Virtual Reality (VR), and beyond. The guest speaker was Prof. Eric Hawkinson, Professor and Learning Futurist at the School of Global Engagement in Kyoto University of Foreign Studies, and Visiting Professor at the UPOU Faculty of Information and Communication Studies shared the benefits, limitations, and potential applications of the technology platforms in both teaching and learning.
Prof. Hawkinson shared his core passion for understanding the factors and technologies reshaping how humans happily teach, learn, work, and grow. He shared that his core values are having open knowledge, privacy by design, digital literacy for everyone, and inclusivity in technological development.
Immersive technologies, according to Prof. Hawkinson, are a whole suite of different technologies which contain various things together but most importantly explain, and are used as great research tools. Immersive learning also has some concerns and issues that both teachers and the learners should be aware of, including privacy, automation, and psychological factors.
According to Prof. Hawkinson, virtual environments through the use of VR can be useful to administer collaborative learning. Such tools can help teachers make content and foster better learning experiences for students.
This collaborative event between the UPOU Multimedia Center and the UPOU Office of Public Affairs was held on 14 October 2022, from 10:00 AM to 11:00 AM. The episode was moderated by Dr. Roberto Figueroa, Jr., Assistant Professor, UPOU FICS, and Program Development Associate for the Center of Immersive Open Pedagogies (CIOP) Program. w The recorded live event is accessible via networks.upou.edu.ph/opentalk and at facebook.com/UPOpenUniversityNetworks.
---

Written by Alessa Shainne Hostalero
Edited by Myra C. Almodiel and Anna Cañas-Llamas