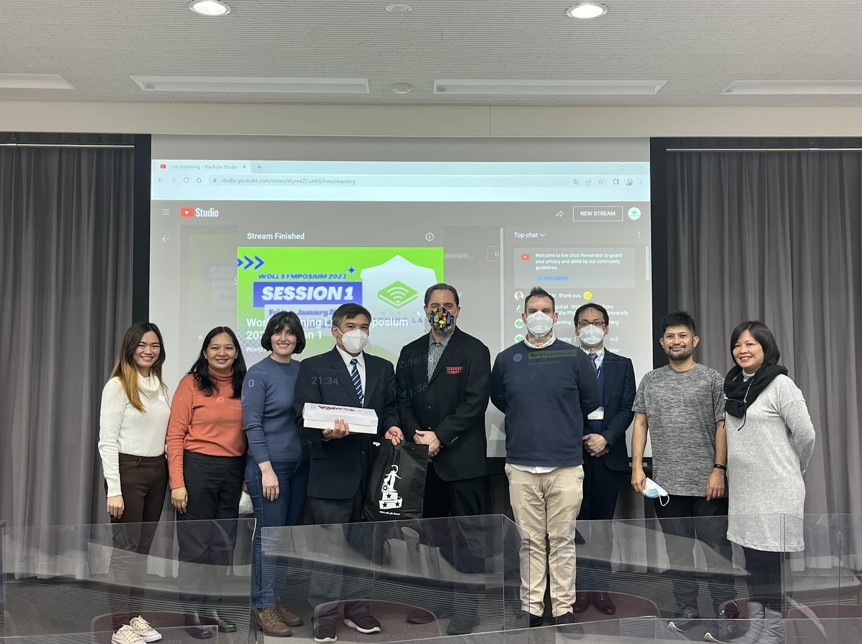 Five faculty members and researchers represented the University of the Philippines Open University (UPOU) in the World Learning Labs Symposium (WoLL) 2023 held at the Kyoto University of Foreign Studies (KUFS) on 27-28 January 2023. The event brought together industry professionals and academics to discuss real-world case studies and contexts of post-pandemic learning environments. Refereed scholarly papers from the symposium will be published in a special edition of the International Journal in Information Technology in Governance, Education and Business (IJITGEB). The symposium was chaired and hosted by Professor Eric Hawkinson, who also conducted a three-hour immersive learning workshop on two platforms: My Hometown Project and Reality Labo at the newly-redesigned MAICO laboratory. MAICO used to be a computer lab that was repurposed into an immersive learning environment. The lab is supported by the Global Studies Department of Kyoto University of Foreign Studies. The Chair of this department, Professor Jay Klaphake, was at the workshop and evoked the need to be better prepared for disruption to higher education from digital transformation.
Dr. Roberto B. Figueroa Jr co-chaired the symposium as one of his initatives as the director of the UPOU Immersive Open Pedagogies (IOP) Research Program. He also talked about recent projects under the program such as the design of an immersive learning laboratory in the Philippines which he and Professor Hawkinson envision to be a "sister-lab" of the MAICO laboratory at KUFS, and UPOU's virtual exhibit in the Metaverse. Professor Eric Hawkinson is a learning futurist and has been designing learning programs and experiences with technology, namely augmented and virtual reality for more than ten years. He sees the partnership between laboratories as a key part in giving them value to students.
Other UPOU faculty members and researchers who presented in-person include Assistant Professor Shari San Pablo with her paper entitled Inconvenient Silence: A Virtual Exhibit on Mental Illnesses; Dr. Diego Maranan, Faculty of Information and Communication Studies (FICS) Dean, who talked about The Bukas Lab: Exploring Creative Physical Spaces for a Virtual University; Ms. Margaret Jarmin-Suarez, University Researcher, who presented Possibilities of Use of Immersive Virtual Reality in DEVC263 Course; and Dr. Joane V. Serrano, Faculty of Management and Development Studies (FMDS) Dean, who discussed FMDS Programs' Perception on the Use of Immersive Technologies.
The event also featured online presentations from Japan, the Netherlands, France, and Pakistan, and the Philippines, where the paper titled Development of a Web-Based Related Learning Experience for Nursing Students in an Open University was delved into by UPOU Faculty of Management and Development Studies Faculty members, Asst. Prof. Ria Cabanes, Asst. Prof. Rita Ramos and Asst. Prof. Queenie Roxas-Ridulme, and FMDS Research Assistants.
Aside from KUFS, UPOU, and IJITGEB, the symposium was supported by the Mixed, Augmented, and Virtual Realities (MAVR) in Learning Special Interest Group of the Japan Association for Language Teaching (JALT) and the Together Learning Community. The hybrid symposium was attended by 50 online and 15 in-person participants.
Videos of the presentations can be viewed at the WoLL website: http://www.worldlearninglabs.com/
---
Contributed by Joshze Rica Esguerra, Dr. Roberto Figueroa and Prof. Eric Hawkinson