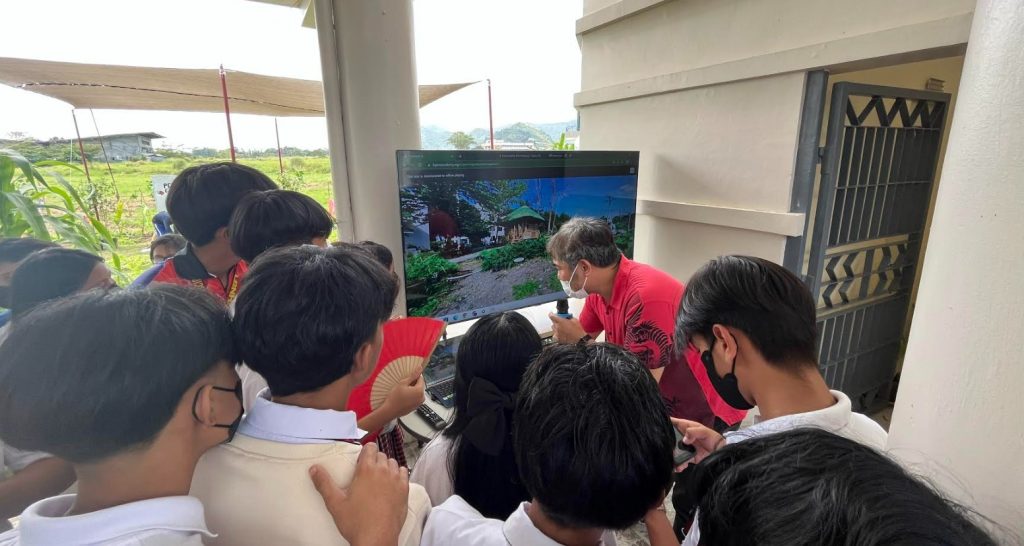 In celebration of International Forest Day, K-12 students around Laguna were welcomed to the University of the Philippines Open University (UPOU) Faculty of Management and Development Studies (FMDS) Perma G.A.R.D.E.N (Growing Appreciation toward Resilience, Development, Entrepreneurship, and Nutrition). The FMDS Perma G.A.R.D.E.N. was launched on 21 March 2023, and a virtual tour for students and a physical tour of the garden itself was done.
Dr. Roberto B. Figueroa Jr., Immersive Open Pedagogies (IOP) Program Director, gave a brief interactive talk about the tour and its features. The virtual tour of the FMDS Perma G.A.R.D.E.N features information about the crops and their culinary and medicinal uses through hotspots placed around the garden. These hotspots can be accessed using a head-mounted display like the Oculus Quest 2 or Google Cardboard. The Perma G.A.R.D.E.N. Tour is now part of the growing immersive open educational resources (iOER) of the university. It can be accessed at https://iop.upou.edu.ph/vrtours/permagarden/.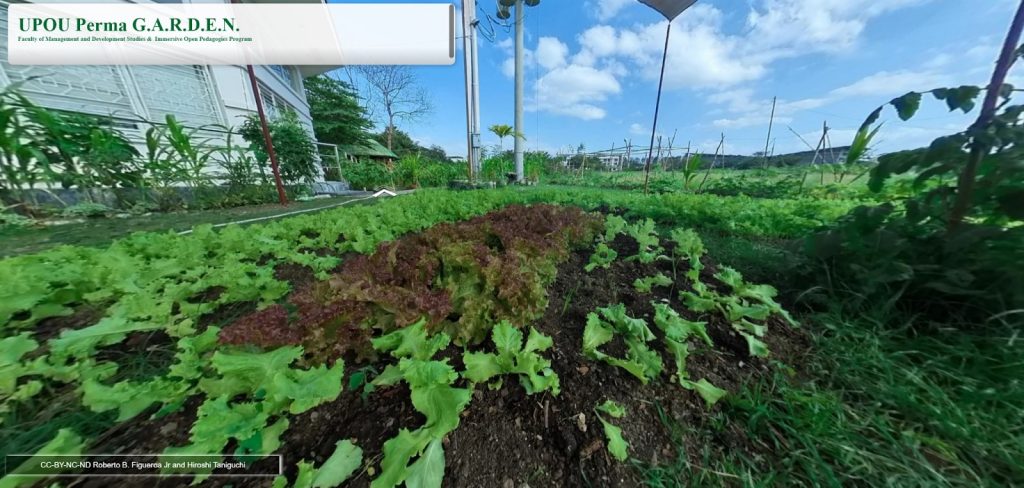 The virtual tour project is a collaboration between the UPOU Faculty of Management and Development Studies and the newly established IOP Program. The various scenes were created through 360-degree photography carried out by Dr. Figueroa and Dr. Joane V. Serrano, Dean of FMDS. The script and other related information were prepared by FMDS Research Associates, Rhea Ariele Pascua, Nathalie Ross B. Panting, and Janele Anne Belegal. The VR tour, on the other hand, was built and uploaded by Adjunct Professor Hiroshi Taniguchi, and IOP Research Associate, Ms. Joshze Rica Esguerra.
The FMDS Perma G.A.R.D.E.N is an initiative done in support of sustainable production and consumption, and in contributing to Sustainable Development Goal (SDG) 2: Zero Hunger. It aims to help communities build home gardens by applying multiple strategies with the end goal of growing appreciation toward resilience, development, entrepreneurship, and nutrition. The FMDS Perma G.A.R.D.E.N. was developed with the help of Dr. Jabez Joshua Flores, an alumnus of UPOU and an expert in Permaculture.
---
Written by Roberto F. Figueroa, Jr.
Edited by Myra C. Almodiel and Anna Cañas-Llamas